DEVA
Music & Sound Healer Ibiza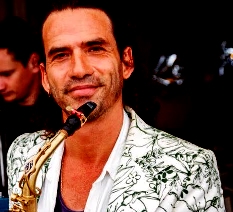 My name is Deva and music has been my passion and inspiration all my life.
I am a professional musician for nearly 30 years, playing several instruments in particular the saxophone, percussion, piano, guitar and flutes.
I have performed in 57 countries and produced several CD's for meditation, in India, Italy and Spain and for nearly 15 years I have been playing in meditations, courses, workshops and spiritual festivals around the world. I performed with the successful GURU JOSH PROJECT, from 2008, when I decided to stay in Ibiza.
As a popular musician within the Ibiza music scene, I had residencies in KM5, Blue Marlin, Eden, Manumission, (former) Teatro Pereyra and Sunset Asharam and played frequently during opening parties, special events, festivals and private parties, where I got everyone on the dance floor quickly.
For my education I followed 7 years of intensive trainings, and living in the Osho Gautama Multiversity in Italy, the OSHO International Meditation Resort in Pune, India, where I lived for 3 years and created the music of the Osho meditation 'Laughing Drum', and the Humaniversity Veeresh training, Sound/Music healing in Auroville, India, and Vision Quest, sun and star Shamanic process by "camino rojo", in Mexico and Ibiza, Spain. From 1991 to 1994 I followed the Universal Human Energy training, 3rd level. In 1999 I worked with Pratibha de Stopanni in her Voicing & Sound healing workshops.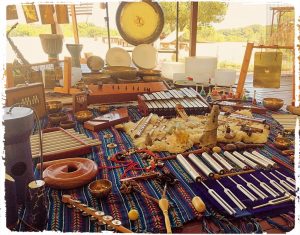 Musical curiosity kept me exploring new genres. Although my focus had been on the entertaining quality of music, as a spiritual man, I am also very passionate about the metaphysical aspects of Sound and the enormous transformational possibilities that Sound offer to us.
Realise that everything in creation is actually energy, vibrating at different frequencies and as we, humans, are designed to interact with the physical reality in terms of vibration and resonance,  Sound is the key to a deeper understanding of life.
As we are vibrational beings, we need sound to keep our auras or chakras balanced.
I am devoted to share a whole new understanding of sound and music through the connection and initiation into the healing power of sound.
My sound and music sessions are dedicated to facilitating healing and consciousness shifts for people, individually or in groups.
I am currently co-director of "Todo Puede Sonar" Association at Ibiza, Spain.
Having recognized the strong transformational, healing energies of this island, I can only recommend Ibiza as the most perfect place to experience a Sound Healing. So take advantage when you visit Ibiza!!  

Deva
Music & Sound Healing